York Revolution Fan Club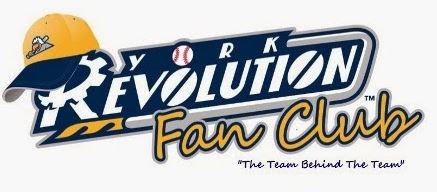 Accepting memberships for the 2019 season!

The York Revolution Fan Club supports Revolution players, coaching staff, and management of the York Revolution. Your membership includes:
an "inside look" at the team through regularly scheduled meetings at the ballpark
meet and greet with players at fan club events (picnics and meetings)
passes to exchange for 2019 game tickets
$2 discount on regular game tickets
exclusive fan club events such as picnics
the chance to present fan club sponsored player awards on the field
reduced pricing on bus trips to other Atlantic League ballparks to see the Revs on the road
provide meals to players on road trips and occasionally for home games during the season
provide "Welcome to York" gift bags and other gifts to players
exclusive memorabilia raffles
exclusive newsletters and access to York Revolution Fan Club Facebook page
Meetings are held in the Homerun Patio at PeoplesBank Park during the season. In the event the game scheduled that day is canceled due to weather, the meeting will also be canceled. Updates will be sent out via email and placed on the York Revolution Fan Club Facebook page.
Pre-Season Meeting at Hoss's in West York: April 14 at 3:30 PM
Meeting Dates: May 25, June 22, July 27, August 17, September 7
Post-Game Player Picnic: June 2 and September 8
Visit the York Revolution Fan Club Facebook page by clicking here!
Family Membership: $20.00 (2 adults and your children under 24)
Individual Membership: $10.00
2019 Fan Club Officers:
Dennis Rote, President
Bryanne Gordon, Vice President
Chris Rowe, Secretary
Steve Gentzler, Treasurer

Fan Club Members and their invitees, licensees, guests, or visitors, and their families, shall save and hold York Revolution Fan Club harmless and indemnify the York Revolution Fan Club from any and all claims, loss, damages, liabilities, cost, accident, expense, or in connection with injury (including death) or damage to any person or property in any way resulting from or connected with any function sanctioned by the York Revolution. The York Revolution Fan Club is an independent organization that shares no legal or fiscal assets and/or liabilities with York Professional Baseball, LLC (DBA York Revolution) or High Five Baseball, LLC. All applicants, by signing this agreement, also agree to abide by the by-laws of the York Revolution Fan Club.