World Record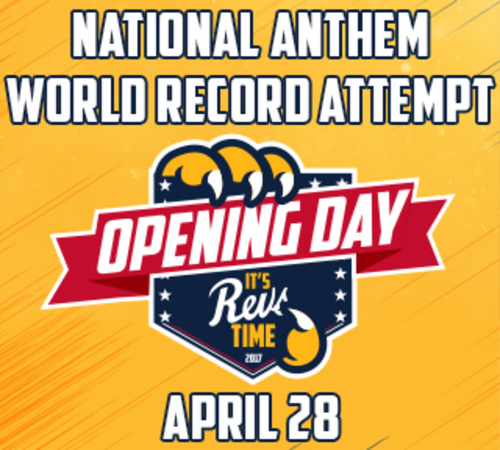 Be a part of history as the York Revolution welcome back the great American pastime with an attempt at a world record, presented by Menchey Music Service! Get discounted tickets today to be on the field on Opening Day, Friday, April 28, at 6:30 p.m. and join hundreds of area musicians in the largest group ever to perform the national anthem simultaneously. More details are in our Frequently Asked Questions below!
Q: What world record are you attempting to set?
A: The Revs and their fans will be trying to establish the world record for the number of musicians performing the national anthem simultaneously.
Q: Who is eligible to participate? Do I have to be a professional musician?
A: The attempt is open to musicians of all ages and abilities.
Q: Will this be a Guinness World Record?
A: We are working with Guinness World Records and will be following all of their directions to properly chronicle the attempt for their review. We hope to hear if we've made their famous book a few months after the attempt.
Q: Who will be conducting?
A: York Symphony Orchestra General Manager and COO Michael Reichman is advising the Revolution on the musical elements of the attempt and has volunteered to conduct the musicians during the performance of the national anthem.
Q: How do I sign up? How do I get tickets?
INDIVIDUAL PERFORMERS may reserve tickets for themselves and their family and friends
online
.
ALL PARTICIPANTS will need to complete and bring with them a completed
waiver
.
After you have ordered your tickets for the game, a York Revolution staff member will contact you with additional details and to confirm what instrument you'll be playing.
If you have already purchased tickets for Opening Day and would like to join the record attempt, please RSVP by emailing
Bob Gibson
in the Apple Chevrolet Ticket Office or calling (717) 801-4487. Please note that you will need to complete and bring with you the waiver found at the link above.
Q: What time should we be there?
A: Gates will open at 5 p.m. We encourage participants to arrive as early as possible as it will take time to organize everyone per the Guinness World Records requirements.
Q: Where do we go when we arrive?
A: After they've given their tickets to the ticket takers, participants will be directed to follow the path to the center field gate. Revolution staff members will collect waivers and distribute commemorative pins, and volunteers will organize and escort the musicians to designated areas on the field.
Q: Can I accompany my child onto the field?
A: Only performers will be allowed onto the field. Parents will be able to watch their children from the nearby lawn section and meet them again after they have left the field following the attempt.
We will need assistance, however, from a large number of VOLUNTEERS to help organize the performers and monitor the record attempt per Guinness World Records requirements. Parents and band directors and support personnel are welcome to sign up to serve as volunteers by sending an email to
IHarris@yorkrevolution.com
.
Q: Will sheet music be provided?
A: Yes. With help from the York Symphony Orchestra, we have selected an arrangement that includes parts for the most common band and orchestra (string) instruments. Here are links to PDFs of the arrangent by parts:
Full score
Brass and W
ind instruments
String instruments
Q: Will there be a rehearsal?
A: We will not be hosting an organized rehearsal and encourage participants to practice on their own using the sheet music provided above.
Q: Can we bring electric instruments?
A: The attempt will be limited to acoustic and battery-powered instruments. The Revolution will not be able to provide power for amplifiers, speakers, and instruments requiring outlets.
Q: Will chairs and music stands be provided?
A: To protect the field of PeoplesBank Park, the Revolution will only provide a very limited number of chairs to those indicating their instruments absolutely require them. Revolution personnel will verify what instruments performers will be playing upon receipt of their ticket orders.
Q: What happens after we play the anthem?
A: All performers will exit the field via the center field gate and are welcome to return their instruments to their vehicles or to check them in a covered area to retrieve after the game. Then we'll need your voices to cheer the Revs on to a win against the Somerset Patriots.
Q: Where should our school park our band trailer or van?
A: Large groups transporting their instruments will be able to park trailers and vans in the east side parking lot of the Greyhound Bus terminal (the old train station) near the first base side of PeoplesBank Park. They can return their instruments to the vehicles via the first base gate after the national anthem.
Q: What will we do with our instruments during the game?
A: For those who do not wish to return their instruments to their vehicles, an "instrument check" area will be provided, and musicians choosing to store their instruments in this covered area will receive a tag to use to claim their instruments by the end of the game.
Q: What happens if the game is rained out?
A: In the event the game is canceled, the rain date will be the next night, Saturday, April 29.
Q: I want to be able to tell others I was part of this historic attempt. Will there be anything for those who participate?
A: Each participant will receive a commemorative button indicating their participation in the world record attempt.