Coaching Staff

Mark Mason, Manager
Mark Mason enters his eighth season at the helm of the York Revolution in 2021. With 500 victories in addition to the 2017 Atlantic League championship, he is the winningest manager in Revolution history.
The longest-tenured manager in club history and longest-tenured active manager in the league, Mason also enters his 11th overall season on the staff in 2021 along with Enohel Polanco as the longest-tenured staff members in club history. The two have been part of 715 combined victories.
Mason oversaw an incredible turnaround during the 2019 season that saw the Revs overcome a 13-30 start, going 62-35 from June 10 on to post the league's second best overall record at 75-65. That included a stretch on which York won 14 of 15 series, going 39-10 from June 10-August 4, and a 27-6 mark from June 25-August 4. York won 41 second half games, their most in a half since 2014 and most in a second half since 2012. The Revs offense blasted a franchise record 167 home runs, the league's highest total since 2010, while batting a league-best .293 (league's highest since 2012) with 762 runs scored (100 more than any other team and league's most since 2011). Mason recruited a club record eight mid-season All-Stars, three post-season All-Stars, and the Atlantic League Player of the Year for the second time in three seasons. It was all part of leading the franchise to its eighth postseason berth and fourth under his guidance. Mason also managed the Freedom Division to victory at the Atlantic League All-Star Game for the second consecutive season, this time in York at PeoplesBank Park.
Following a highly successful three-year tenure as the club's pitching coach, Mason's promotion to manager was announced on September 4, 2012, as he succeeded Etchebarren in becoming the third field manager in Revs history.
As pitching coach, Mason's staffs amassed a league-best 221-183 record in three seasons, and the Revs were one of only two Atlantic League teams to reach the playoffs each of those three years. Mason has also produced numerous pitchers whose contracts have been purchased by Major League organizations, nine of whom have gone on to pitch in the Majors including four who made their MLB debuts. In addition to his success as pitching coach, Mason has held a leading role in player procurement since his arrival before the 2010 season, as his far-reaching connections and tireless efforts have helped the Revs win three championships and establish a tradition of excellence.
In Mason's first two seasons with York, the Revs became just the second team in Atlantic League history to win back-to-back championships, doing so in 2010 and 2011. The team's postseason success centered around Mason's pitching staffs, as the Revs posted a combined 3.10 playoff ERA with a 12-5 record during those championship runs.
Since Mason's arrival in 2010, the Revs have had 33 players signed in-season by Major League organizations, 19 of whom have come from Mason's pitching staffs. Nine of those pitchers and 10 total players have made it to the Major Leagues.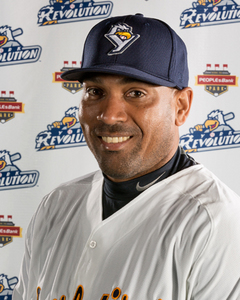 Enohel Polanco, Bench/Third Base Coach
Enohel Polanco returns to the Revs for his 11th season on the staff, joining manager Mark Mason as the longest-tenured members of the baseball staff in franchise history. "Polo" made the transition from player to coach during the 2010 season, initially as the club's first ever player-coach, holding both an active roster spot as an infielder as well as a spot on the coaching staff. During his time in York, he has played a major role both on the field as the team's third base coach and behind the scenes in helping the club reach the postseason during seven of his 10 years. The 2010 and 2011 championships marked the first Atlantic League titles of Polanco's career, before adding a third ring with the Revs in 2017.
When the Revs landed Polanco, they acquired a respected veteran whose Atlantic League ties run deep. The 2021 season is his 18th in the league, and the Revs are his sixth Atlantic League team.
A native of Puerto Plata, Dominican Republic, Polanco began his professional career in 1995 when he signed with the New York Mets. Primarily a shortstop early on, his 14-year career as a player also took him to the Chicago Cubs, Cleveland Indians, Florida Marlins, and Colorado Rockies farm systems, reaching the Triple-A level with Cleveland and Florida in 2000. In total, he played for 21 different clubs, including seven during the 2000 season alone.
Polanco first signed to play in the Atlantic League in 2001 as a member of the Atlantic City Surf, batting .303 that first season. He has also played in the Atlantic League for Nashua, Southern Maryland, Bridgeport, Newark, and York, batting a combined .290 during his time on the circuit.
With the Revs, Polanco has been instrumental in the organization's player procurement efforts and his connections, especially in the Latin American baseball community, have helped the Revs land numerous key players during the franchise's sustained period of success. His behind-the-scenes work with the team's hitters has paid huge dividends as well, as the Revs have led the league with a combined .279 team average, 13,114 total hits, and 6,908 total runs in the 10 years since his arrival, while ranking second with 1,270 home runs. Polanco has coached 40 position players to mid-season All-Star nods and 31 position players to all-league selections including Atlantic League Player of the Year selections Scott Grimes (2010), Alonzo Harris (2017) who was also named Baseball America's Independent Leagues Player of the Year taking home the industry's top national award, and Telvin Nash (2019). He has also mentored 11 position players whose contracts have been purchased in-season by Major League organizations.
Sandy DeLeon, Bench Coach
Sandy DeLeon enters his third season as full-time bullpen coach in 2021, having previously worked in the same role for the team on a part-time basis around his coaching and managing schedule on other circuits. DeLeon rejoined York for its 2017 second half and postseason championship run.
A veteran of the Atlantic League as a player, the Revs became DeLeon's eighth and final Atlantic League squad during his playing career, as he appeared in 18 games for York during the franchise's first championship season in 2010, which was DeLeon's seventh in the Atlantic League as a player.
DeLeon was originally signed as a non-drafted free agent by the Seattle Mariners in 1994. His team lost in the Dominican Summer League finals to Enohel Polanco's Mets squad during his first pro season. DeLeon was traded to the San Francisco Giants for pitcher Salomon Torres in 1995 and played in the Giants farm system from 1995-99. His playing career later took him to the Frontier League in 2000 and the Atlantic League in 2001 when he suited up for four different clubs (BPT, SOM, AC, LV). It was the start of five straight years in the Atlantic League for DeLeon, which included stops with Long Island, Newark, and the Road Warriors. He also spent time in the Golden League in 2005 and 2006 as well as the Can-Am in 2006.
DeLeon returned to the Atlantic League in 2007 for his third stint with Bridgeport. After time in the United League in 2009, DeLeon was back in the league with York as a member of the championship squad in 2010. He enjoyed two more professional seasons as a player in the Can-Am before moving toward his coaching career.
As a coach, DeLeon was an instrumental figure in starting the Empire League and Thoroughbred League while spending time with York on a part-time basis before assuming his current full-time role.
The 41-year-old was born in New York City and still makes his home in the Big Apple where he has worked as a nurse when not coaching baseball. DeLeon graduated from Brandeis High School in Manhattan and attended Rockland Community College before signing with Seattle.
Eddie Gonzalez, Bench Coach
Eddie Gonzalez is a native of Mayaguez Puerto Rico entering his 15th year in professional baseball. Gonzalez is nationally recognized as a player procurement specialist who recruits players to affiliated and MLB-partnered leagues such as the Frontier League, American Association, and Atlantic League. He is the director of baseball operations for the Empire League, a rookie professional developmental league that prepares players to sign with high-level pro leagues. Known for his defensive skills as a catcher, Gonzalez played professionally for seven years and was a Frontier League All-Star in 2008 with the Florence Freedom.