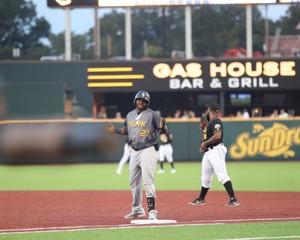 (August 14, 2021 – Gastonia, NC): Saturday's scheduled game between the York Revolution and Gastonia Honey Hunters at CaroMont Health Park has been postponed due to rain and storms in the Gastonia area. The two teams will play a twinbill beginning Sunday morning at 11:05 a.m.
York is coming off a 16-1 victory on Friday night to open its week-long road trip and will go for a third consecutive victory overall in Sunday's opener. The two teams will play a pair of seven-inning games early on Sunday in an attempt to beat further weather issues forecasted for Sunday afternoon.
Revs fans can catch Sunday's doubleheader live on the WOYK YouTube channel beginning at 11 a.m. The broadcast will hit the radio airwaves at noon following the 11 a.m. broadcast of Sunday's Saint Matthew Lutheran service, and can be heard on SportsRadio 98.9 FM & 1350 WOYK, 989woyk.com, and The New WOYK app.