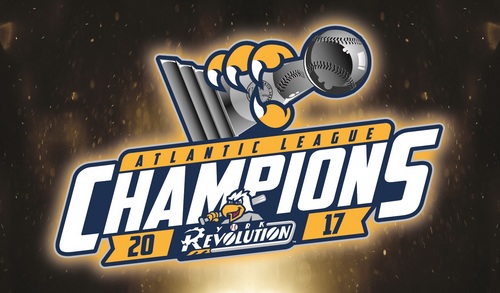 (October 24) — The York Revolution will begin defending its Atlantic League championship on Thursday, April 26, 2018, when it welcomes the Freedom Division rival Lancaster Barnstormers to PeoplesBank Park, the team announced today.
The Revolution's 12th season will feature 72 home games, including 18 against the Road Warriors, who will return to the league for the first time since 2011 and play all 126 games at the homes of the league's seven other teams. The Road Warriors take the place of the Bridgeport Bluefish, who played their last season in 2017. League officials said they expect to again have eight home communities in 2019.
The Revolution will begin the 2018 season at home for the first time in three seasons and host 12 weekends, as well as 36 weekday games. Officials added they have begun developing another exciting, family-friendly promotional schedule that will feature giveaways, celebrity appearances, and entertainments acts. Season tickets are already on sale, and individual tickets will go on sale in late Winter 2018.
The 2018 opening series against Lancaster will also begin the latest chapter in the "War of the Roses." York will face Lancaster 18 times next season in a bid to hold on to the Community Cup it won again in 2017.
The Revs will face the Southern Maryland Blue Crabs 17 times and the New Britain Bees, Somerset Patriots, and Long Island Ducks 18 times each.
The Revolution will also make two to trips to Sugar Land, TX, to take on the Skeeters in 10 road games and host the Skeeters for 9 games at PeoplesBank Park.
The 21st Annual Atlantic League All-Star Game will take place on Wednesday, July 11, at Bethpage Ballpark in Central Islip, N.Y., home of the Long Island Ducks.
The 2018 ALPB schedule is divided into two 63-game halves, with the first half ending on Thursday, July 5, and the regular season ending on Sunday, September 16. The first-half and second-half champions in each division will qualify for the 2018 Atlantic League playoffs. If one or both teams win each half of their respective divisions, the team(s) with the next best overall record will qualify for the postseason.
Both Division Championship Series matchups will take place the week of September 17, 2018, with the Atlantic League Championship Series occurring during the week of September 24.
The full 2018 York Revolution schedule is below. Game times will be announced later as the 2018 promotional schedule begins to take shape.
2018 York Revolution Schedule
May 1-2 (DH May 2)
Road Warriors
May 8-9
at Southern Maryland
May 15-16 (DH May 16)
Somerset
May 29-31
Southern Maryland
June 15-17
at Southern Maryland
June 25-28
at Long Island
July 6-8
at Southern Maryland
July 27–August 2
at Sugar Land
August 3-5
Southern Maryland
August 9-12
at Long Island
August 24-26
Southern Maryland
August 28-30
at New Britain
August 31-September 2
Long Island
September 4-6
Road Warriors
September 7-9
at Somerset
September 11-12
Road Warriors