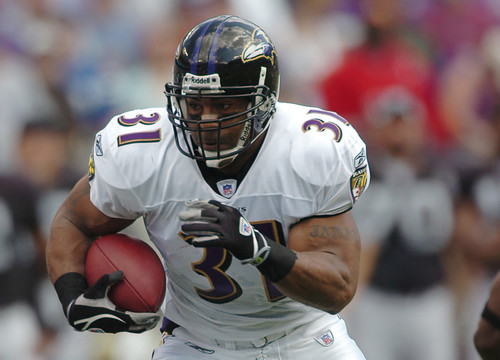 (April 28) — Super Bowl Champion and former Baltimore Raven Jamal Lewis will meet York Revolution fans on Saturday, July 21, the team announced today. The nine-year NLF veteran will headline Youth Football & Spirit Night at PeoplesBank Park and sign autographs during the game.
Lewis will also participate in a special pre-game meet-and-greet session for fans who purchase tickets for an all-you-can-eat event in White Rose Hall.
A first-round pick by Baltimore and the fifth overall in 2000, Lewis helped the Ravens to their first Super Bowl championship in 2003, when he rushed for 103 yards and scored a touchdown in the game, becoming only the second rookie ever to rush for more than 100 yards in a Super Bowl and the youngest player to score a touchdown in a Super Bowl.
In the 2003 season, Lewis led the NFL in rushing with 2,066 yards (third-most all-time) and was named AP NFL Offensive Player of the Year. He retired in 2009 as a member of the Cleveland Browns after rushing for 10,607 yards in 131 games.
Lewis will cap off a night themed around youth football and featuring pre-game punt, pass, and kick competitions, as well as in-game performances by local high school cheer groups.
For tickets to the game, click
here
.
To meet Lewis in the pre-game meet-and-greet event in White Rose Hall, click
here
.