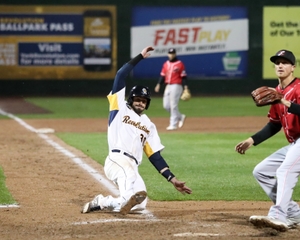 (April 28th, 2018) -- The Lancaster Barnstormers ended the York Revolution's two-game winning streak with a 14-4 win on Saturday night at PeoplesBank Park. Now 2-1 on the season, the Revs will go for the Opening Weekend series victory on Sunday at 1 p.m.
Eight of nine starters had at least one hit as Lancaster put up 20 hits as a team.
The Barnstormers scored first for the second night in a row thanks to back-to-back doubles from Rico Noel and Blake Gailen to go up 1-0 in the first. Noel stole third base before Gailen drove him in. A strikeout-throw out double play ended the inning when York starter Mitch Atkins struck out Ryan Casteel and catcher Tyler Clark threw out Gailen trying to steal third. It was the second time Clark has thrown out an attempted base stealer this series.
In the second, Lancaster scored another run on Carlos Garcia's RBI single to left. Right fielder Jared Mitchell saved a second run from scoring by throwing out Vladimir Frias at the plate on a Noel single for the final out of the inning.
In the bottom of the inning, Zach Wilson started things with a single and Melky Mesa followed with a double to left-center. Jose Tabata laced a two-RBI double off Barnstormers starter Nate Reed over Keenyn Walker's head in left field to tie the game at 2-2.
The game remained tied until the top of the sixth when the Barnstormers scored 11 runs on seven hits, the most runs in an inning in franchise history. They also walked four times and one batter was hit by a pitch. Josh Kimborowicz, who took over for Atkins in the fifth, only recorded one out in the sixth and gave up five runs. He was replaced by Zac Treece who was tagged with six runs before recording the final two outs. Lancaster sent 15 men to the plate as eight of nine starters scored at least one run in the inning, and three scored two times. All nine starters reached base safely and five had at least one hit in the 11-run frame.
Noel finished the night 5-for-5 with two doubles, three singles, three RBI, a stolen base and three runs scored. Joey Terdoslavich had a big night too, going 3-for-4 with two RBI and a run.
The Revs got two back in the seventh, scoring after the fourth inning for the first time this season. Ryan Dent doubled to lead off and Clark followed with an RBI double into the right field corner. Clark later scored on a wild pitch to make it 13-4.
The Revs went quietly in the eighth before the Barnstormers added one more run in the ninth to reclaim their double-digit lead on Casteel's RBI fielder's choice grounder to make it 14-4.
Kimborowicz (0-1) was handed the loss as Reed (1-0) earned the win. Reed went five innings, allowing two runs on five hits with six strikeouts.
Atkins took a no-decision for the Revs, working four innings and giving up just two runs with four strikeouts.
Witherspoon picked up his third straight two-hit game with a pair of singles.
The Revs' four-game set with Lancaster concludes Sunday with a 1 p.m. start time. as Dominic Severino makes his York debut opposite Brooks Hall. It is Bark in the Park presented by East York Veterinary Center, $1 Dog Day courtesy of Hatfield Quality Meats, Magnet Schedule Giveaway (First 1,500 Fans), Dog Bandana Giveaway (First 150 Dogs) plus treat bags courtesy of The Boys Barking Bakery (First 100 Dogs), Sunday Funday with a pre-game autograph session, catch on the field, and post-game kids run the bases, and the day features a special appearance by Olympian Summer Britcher. Tickets are on sale at YorkRevolution.com, (717) 801-HITS, and in-person at the York Revolution Ticket Office.
Story by Michael Marcantonini