Rick Forney, Manager
In many ways – and for all the right reasons – Rick Forney is coming home.
On October 24, 2022, the York Revolution announced the hiring of the long-time skipper of the Winnipeg Goldeyes, one of the most successful managers in American Association history, as the new manager of the Revs, bringing Forney close to the area in which he started his professional baseball career and – more important – considerably closer to his Frederick, Maryland-based family, even during baseball season.
Forney, who turned 51 the day of his hiring, comes to the White Rose City after 26 seasons in Winnipeg, including 17 as manager. He led the Goldeyes to an overall record of 887-753, 13 winning seasons, 10 playoff appearances, and three American Association championships (2012, 2016, 2017). He was also a two-time American Association Manager of the Year (2011, 2020).
"The opportunity to bring someone of Rick's caliber to York is very gratifying – not just for his winning record and approach to the game, but to keep alive the Revs tradition of great people in the organization, well beyond baseball," said Revolution President Eric Menzer.
Forney departed a Winnipeg organization that was voted its league's Organization of the Year on eight separate occasions and said the Revolution position was the ideal win-win situation.
"I knew if I was going to leave Winnipeg, it would only be for one of the best opportunities out there, and the Revolution position is certainly that," he said. "This is a great club in a terrific league, and managing in York is better for me and my family."
Born in nearby Annapolis, Maryland, Forney lives in Frederick County, Maryland, with his wife and three children, one of whom has cerebral palsy. Forney and his wife, Erika, lost their eldest child, David, in 2020 when he passed unexpectedly while studying and playing football at the United States Naval Academy.
The move to York also brings Forney back to the area in which his 10-year playing career began – and extends the Revolution's deep connections to the Baltimore Orioles. As Revs manager, he now joins the team founded in part by Orioles legend Brooks Robinson (who himself began his pro career in York and is honored by a statue on the ballpark plaza bearing his name) and first managed by Orioles Hall of Famer Chris Hoiles. Hoiles was succeeded by Robinson's teammate Andy Etchebarren. Numerous other former Orioles have served as team coaches since the club's inception in 2007.
"For an organization that honors the greatest Oriole of all time on our front plaza, Rick's Orioles roots are very fitting for our team," Menzer added. "I can't wait for our fans and the York community to meet him."
Drafted by the O's as a 26th-round pick in 1991 out of Anne Arundel Community College, the right-handed pitcher launched his professional career with a 7-0 record and a 2.19 ERA for the Orioles' Rookie level Gulf Coast League affiliate. The following season, he posted a 2.48 ERA in 123.1 innings for the Low-A Midwest League's Kane County Cougars. In 1993, he won 14 games and recorded a 2.78 ERA for the High-A Carolina League's Frederick Keys. Forney spent the majority of the next two seasons pitching at the Double-A level with the Eastern League's Bowie Baysox, including a 13-win campaign in 1994 that saw Forney toss the only perfect game in Baysox history on July 30 of that season. Forney reached the Triple-A level in 1995, making three starts for the International League's Rochester Red Wings. He would play the following season with the Lubbock Crickets before joining the Goldeyes in 1997 and becoming one of the greatest pitchers in the club's history.
During his four years as a Goldeyes pitcher, Forney established club records for wins, strikeouts, games started, and innings pitched that stood for more than a decade, helping pitch his team into the postseason all four years. He was a three-time member of Baseball America's All-Independent Team and twice named a Northern League All-Star.
After going 31-13 during his first three years in Winnipeg, Forney earned a second stint in Double-A with the Atlanta Braves in 1999 where he worked a 2.99 ERA in 12 starts for Greenville. Forney returned to the Goldeyes in 2000 in a dual role as player/pitching coach and transitioned into a full-time pitching coach midway through the season. He closed his 10-year playing career with an 89-56 record and a 3.63 ERA in 204 games (195 starts) while striking out 1,050 and walking just 363 in 1,221.0 innings lifetime.
In six years as Winnipeg's pitching coach (2000-05), Forney saw 12 of his pitchers signed by MLB clubs while guiding his staff to a top five team ERA each season (three times finishing in the top two including a league-best 3.29 mark in 2003).
Forney's 17-year run as Goldeyes manager established the third-longest managerial tenure with the same franchise in MLB Partner League history. Winnipeg's three championships are the most of any club since the American Association began play in 2006, and their back-to-back titles in 2016-17 marked just the second occurrence in league history, a feat that had not been accomplished in 10 years. Forney's Goldeyes also sold the contracts of 44 players to Major League organizations.
Forney became just the fourth manager (now fifth) to be voted American Association Manager of the Year more than once (2011, 2020), and the first in six years. He took over the reigns from his former manager and mentor Hal Lanier prior to the 2006 season, and on August 11th, 2015, the Goldeyes defeated the Sioux Falls Canaries on a ninth-inning walk-off home run for Forney's 524th win as manager, surpassing his predecessor for most victories in franchise history.
The Goldeyes joined the American Association in 2011, and during that span are 631-527. Their .545 winning percentage, all under Forney, is the fourth-highest overall in league history and second highest among active franchises.
---

Joe Harris, Pitching Coach
York County resident Joe Harris returns to the York Revolution as the team's pitching coach in 2023.
A veteran of both the Atlantic League, where he pitched for the Revs in 2014 and 2015, and the American Association, where he spent several seasons competing against Rick Forney's Winnipeg clubs, Harris embarks on his first season as a coach at the professional level while becoming the Revs' first pitching coach on staff since 2019.
The 36-year-old Harris began his pro career in the American Association in 2011, signing with Fargo-Moorhead out of Division II Wilmington (DE) University. The lefty impressed as a rookie, posting a 3.49 ERA in 28 outings (two starts), and became a dominant reliever by his second season, lowering his ERA by almost a run to just 2.65 in 43 appearances.
His third season in 2013 was an eye-opening one, as Harris compiled a 10-3 record with a 1.55 ERA in 53 games out of the Redhawks bullpen. He enjoyed similar success during his fourth season, as he combined to go 18-13 with a 2.41 ERA during his first four years in Fargo.
Harris' success prompted a late-season acquisition by the playoff-bound 2014 York Revolution, where he made seven appearances and allowed just two runs. After a stint in the Venezuelan Winter League, Harris returned to York at the start of the 2015 season and appeared in 21 games before finishing the season back in Fargo.
From there, Harris laid the groundwork for his coaching career. He has spent the past two seasons coaching at his alma mater, helping lead Wilmington University to a Central Atlantic Collegiate Conference championship in 2022 while having the 10th-ranked pitching staff in the nation in all of Division II. Harris spends off seasons doing lessons at Rip-It Batting Cages & Training Facility in Reading, part of the Reading Fightin Phils Baseballtown Charities, and has spent six seasons with the Berks County Bulls travel program with teams from 10-18U.
Harris made a cameo on the mound after a six-year hiatus, signing with the Charleston Dirty Birds to make eight appearances (five starts), logging 24.0 innings during the 2021 season. Harris became the first professional pitcher to deliver a pitch from Major League Baseball's experimental mound distance of 61'6 used during the second half of the 2021 Atlantic League season in a game on August 3, 2021 vs Gastonia that was ultimately rained out. Two weeks earlier, he worked five strong innings in a no-decision at York, carrying a shutout into the fifth.
Over the course of his six-year pro career, Harris went 20-18 with a 3.36 ERA, totaling 287.0 innings, 228 strikeouts, seven saves, and 202 appearances (10 starts).
A native of Douglassville, PA, Harris now resides year-round in York County.
From the Roster to the Coaching Staff:
Harris joins Sandy DeLeon as just the second former Revs player to later become a member of the team's coaching staff. DeLeon caught for the Revs in 2010 and was activated in backup roles in 2013 and 2014 before joining the coaching staff from 2017 to 2022. Enohel Polanco played for the Revs in 2010 but began his coaching career simultaneously as a player-coach during his first season in York.
Forney Says:
"He's a perfect fit. He's super hungry. The energy level is going to be really good from him. He was working really hard to try to find a job getting into the pro game as a pitching coach and I'm glad we were able to work it out and bring him on board to be part of the Revs. He loves the game and he's very passionate about it. The energy is infectious. He's ready to work and that's what we want. He wants to work, plus he's a hometown guy. We couldn't possibly find a better fit. He was more than excited to take the position and I'm thrilled to have him with us. I think he's going to do a fantastic job."
---

Derek Wolfe, Hitting Coach
Derek Wolfe begins his first season in the Atlantic League as hitting coach for the York Revolution in 2023.
Wolfe spent the past four seasons in the American Association, including the past three years with the Sioux City Explorers. After a year as bench coach, Wolfe served as the team's hitting coach the past two seasons. His time in Iowa came after a year with the Gary SouthShore Railcats in 2018.
The Florida native continues to spend his spring seasons as assistant coach at Seminole State (FL) College, a top D1 Junior College program, where he serves as the program's hitting coach and third base coach and oversees the Raiders' infielders, having also previously coached the team's outfielders when he first joined the program in 2018.
A coaching veteran, Wolfe brings an extensive background with experience at a wide range of levels within the game.
Wolfe began his career as head coach at Hiwassee (TN) College from 1995-2000, before spending six seasons from 2001-07 as an assistant coach at the University of Central Florida, where he served in a variety of areas within the program, including assistant recruiting coordinator, hitting coach, third base coach, and outfielders coach. Wolfe helped guide 18 student-athletes who went on to sign MLB contracts during his time at UCF. He also held summer collegiate league head coaching positions during that time with both the Winter Park Angels and the Diamond Dawgs of the Florida Collegiate Summer League, where he was named FCSL Coach of the Year in 2005, guided the Angels to a league championship, and served as the league's Vice President.
Wolfe's background also includes great success at the prep level, where he was head varsity coach and middle school dean of students at Trinity Preparatory School in Winter Park, FL, from 2008 to 2014 and head coach at Seminole High School from 2014 to 2018.  Wolfe's time at Trinity Prep was highlighted by a pair of District Championships as he was named Coach of the Year by his fellow coaches in 2012 and helped guide 22 players who committed to NCAA Division I programs and one MLB draft selection.
Wolfe brings a strong background in baseball analytics to his role with certifications from OnbaseU, Rapsodo, Blast Motion, and Baseball Analytics. He is well-regarded throughout the industry for his individual approach with hitters and his tireless work ethic. During his prep coaching days, Wolfe even co-authored a book on the subject, Coaching Revolution – A Philosophy and Game Plan, and he operates his own training and mentor business for athletes, Wolfe's PATH.
A native of Fort Lauderdale, FL, Wolfe played four years at Tennessee Wesleyan University, where he graduated in 1994 with a degree in Physical Education Teaching and Coaching.  He and his wife Jennifer reside in Lake Mary, FL, with their children Jack, Hayden, Danny, and Julie.
Forney Says:
"Derek is a tireless worker. That guy puts a lot of time in. He's a very good communicator, super nice guy. All the players I've talked to that had been with him said the same thing, that they had really enjoyed being with Derek, really enjoyed the preparation before games with Derek. He really blends well to everybody's needs, he's always available. When we'd go to Sioux City, our bus would roll up in the afternoon, and it's hot there in the summer, and there'd be Derek out there working with his guys, getting them prepared every day. Just a lot of respect for him. He's a good person, very much into the analytics, and I think he has a lot to offer these guys. I'm thrilled to bring him to our staff."
---

Meghan Haas, Athletic Trainer
Meghan Haas enters her second season as Head Athletic Trainer for the York Revolution in 2022.
Haas played a major role in the Revs' success during the 2021 season, as the organization enjoyed a season with far lower injury rates compared to other seasons as well as compared to other teams in the Atlantic League. Haas' tireless work ethic and expertise allowed both pitchers and position players to perform at their highest ability, while remaining healthy and largely injury-free throughout the grueling 120-game season. While her approach directly resulted in the Revs experiencing the benefits of injury prevention, her individual care also helped numerous players return from injury far sooner than anticipated and resume top-level performance while remaining injury-free. Haas' leadership helped the team overcome expectations and remain in contention for a postseason berth all the way to the final weekend of the season.
A native of the Keystone State, Haas was born in Williamsport and graduated from Hamburg Area High School. Haas grew up in athletics, competing in softball, field hockey, and cheerleading, and went on to attend California University of Pa., where she graduated with a BS in Athletic Training. From there, Haas attended Alvernia University, where she completed her Master's in Education.
Haas has spent most of her life residing in the Reading area, where she served as Athletic Trainer for Wyomissing Area High School for 10 years and at Berks Catholic High School for two years. Haas also spent six years at her alma mater, Alvernia University, as Head Athletic Trainer, overseeing care for student athletes of all of the university's men's and women's teams. Among her previous career highlights was serving as Senior Athletic Trainer, overseeing all medical coverage with Philadelphia 76ers camps for two summers.
During the baseball offseason, Haas' role with WellSpan takes her to high schools across the region, where she is able to use her same expert approach from which professional athletes benefit to help local student-athletes perform their best and remain healthy while doing so.
Away from the ballpark, Haas enjoys spending time at her local gym where she teaches daily fitness classes, as well as rooting for the 76ers and her favorite Pittsburgh sports teams. Her favorite off-field activity is spending time with family and cheering on her children at their athletic events. Haas has a son, Jackson (17), and two daughters, Mia (15) and Emerson (13).
---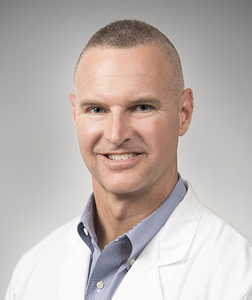 John Deitch, MD, Head Team Physician
John Deitch serves as Medical Director of Sports Medicine for WellSpan Health and as the WellSpan Orthopedics York Site Director. WellSpan Sports Medicine is the official sports medicine provider of the York Revolution. Deitch leads a multidisciplinary team of physicians, advanced practitioners, therapists, licensed athletic trainers, and nutritionists committed to providing comprehensive sports medicine care to individual athletes, local teams including numerous high schools, Gettysburg College, the Revolution, and anyone else who engages in a physically active lifestyle. Deitch's team focuses on the whole continuum of sports medicine care from injury prevention to surgery to safe return to work or play.
Deitch was active in sports during his own playing days, experiencing sports injuries and meeting physicians, therapists, and athletic trainers who greatly influenced his decision to pursue a career in sports medicine. Most of all, Dr. Deitch credits his parents as his biggest influence and values the opportunity to help others make positive changes in their lives.
Deitch is Board Certified in Orthopedic Surgery and Orthopedic Sports Medicine by the American Board of Orthopaedic Surgery. He is a graduate of Temple University School of Medicine, completed Internship and Residency Programs at University of Cincinnati, completed the Fellowship Program at Baylor College of Medicine-Houston, and completed his undergraduate degree at Elizabethtown College.
Deitch and his wife are the parents of three children who are active in youth sports. He has served as a youth soccer coach, baseball coach, and basketball coach. He is active in the community and has volunteered as a board member for FCA-York and Penn Academies and served the York Young Revolution as the organization's Medical and Safety Officer. Deitch enjoys weight training and traveling with family in his free time, enjoying outdoor activities including scuba diving and hunting.