Click here to renew your season members for the 2024!
Submit your renewal form and deposit before September 12 to receive early renewal pricing!


Thank you to Ann & Henry, Kelly & Todd, Ron & Linda, Keith & Elaine and Jeremy Zinn who are a
few of many who have already renewed their season memberships for 2024!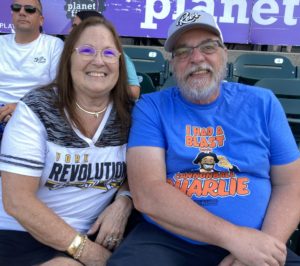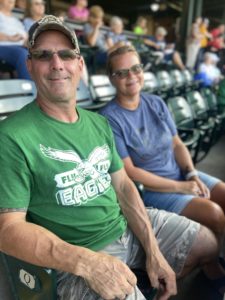 ---
August 31, 2023 – Full Season Member Appreciation Picnic
---
March 29, 2023 – Season Member Tour at Sign of the Horse Brewery in Hanover
---
February 1, 2023
Season Members,
The countdown is on – there are 93 days until our home opener! We've started a Season Membership Updates page on our website where I'll post our email archives so you can refer back to them or catch up on emails that you may have missed. At www.YorkRevolution.com under the Tickets menu – 2023 Season Memberships – Membership Updates. At the top you'll see a link to download an Excel version of our schedule – I'll add promotions as they're confirmed. We've found an Excel schedule to be helpful especially to businesses trying to keep track of their full season memberships!
On Monday, February 6, Darrell Henry and new manager Rick Forney will be starting their Revs Hot Stove Weekly series on Sports Radio 98.9FM/WOYK 1350AM. Tune in at 6pm to hear about the rest of the coaching staff and the first player announcement!
Our promotional schedule is starting to take shape in addition to our roster. Here are the highlights so far:
Friday, May 5: Opening Day Sweet 16 Celebration and Give Local York

Inside the park FIREWORKS after every Saturday game

Day Games (11am start time) on May 11, May 25, and July 13

Thursday, June 15: Pride in the Park with game-worn pride jersey auction presented by JLS Automation

Friday, September 15: Ladies Night presented by UPMC featuring free tickets to all ladies

Crab Feasts catered by Captain Bob's Crabs will be back on June 4, July 9, and August 6

NEW – Bark in the Park is moving to Wednesdays for what we hope will be cooler temperatures for our furry friends. 
This is just a short tease.  There's a lot more to come.  I hope you're looking forward to this sweet season!
– Cindy
---
January 19, 2023 – Season Member Tour at Brewery Products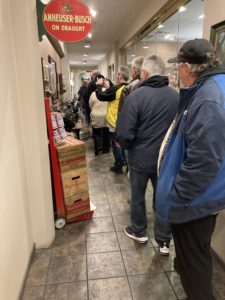 ---
December 30, 2022
Season Members,
Happy New Year! I hope you are looking forward to the 2023 Season and all the fun of turning Sweet 16!
As we wait for Opening Day, we thought it would be fun for you to get to know some of our partners by organizing tours of their facility! Here are the first three facilities that we've lined up. Dates and times for 2 and 3 will be determined based on interest.
Brewery Products located at 1017 N Sherman St, York PA 17402




Thursday, January 19 at 6:00pm and 6:30pm

Martin's Potato Chips located at 5847 Lincoln Highway W, Thomasville PA 17364




February Date(s) and time TBD

Sign of the Horse Brewery located at 979 York St, Hanover PA 17331




March Date(s) and time TBD
If you're interested in joining as at Brewery Products on January 19, please email me at [email protected] so we know how many people to expect. Also, let me know if you have interest in touring Martin's Potato Chips and Sign of the Horse Brewery, as we may need to set up multiple dates.
Congratulations to our Early Renewal Jersey Winners!  Thirty Season Members who renewed early were randomly selected to win a game-worn jersey:  Michael Patrick, Cindy Billet, Richard Halpin, Harold Sargeant, Paula Garris, Zachary Zimmerman, Carl Knaub, Joe & Sandy Koller, Greg Koch, Wayne Zimmer, Ned Smith, Del & Ginny Kuzemchak, Brian & Cindy Guise, Leroy & Pat Hauer, Keith & Elaine Krout, Dot Stabley, Larry & Sheryl Smith, Mike & Lois Heindel, Robert Boyer, Carroll Stambaugh, Brian & Stephanie Muir, John & Bev Vaughn, Dan Sheely, Juanita Wiley, Kari Miller, Brandi Bisch, David Brady, David Mohan, Garry & Donna Newcomer, and Irene & Ken Bair!  
– Cindy
---
November 22, 2022
Season Members,
Thank you to those who attended the Meet & Greet with our new field manager, Rick Forney at The Appell Center on Saturday. We had a nice turnout and a great time getting to know Rick. For those unable to attend, I've included a link here to watch the first 30 minutes; after which the camera battery died. But I think you'll get a glimpse at Rick's past and his goals – to win games!
Season Member Introduction to New Revs Manager Rick Forney
I hope you have a wonderful Thanksgiving and take a 60-second pause to reflect on what you're thankful for. I am certainly thankful for each of your and the role that you play in making my job fun and meaningful.
Happy Thanksgiving!
– Cindy
---
November 16, 2022
Season Members,
It's here! It's finally here! The 2023 season schedule is out, and there's no better time to start planning your summer now that you have another thing to be thankful for!
Click here to review the schedule.
Note: A plethora of promotions will be coming soon! I'm excited to open on a Friday night and to host a game on the 4th of July again.
Flex membership can start selecting their preferred game dates and get them over to me. Silver Sluggers will get 10 Tuesday games (July 4 will not be included but can be added with the premier upgrade!) If anyone would like an Excel version of the schedule, check the top of this page to download a copy. 
Remember – Saturday, November 19 at 11:00am we'll be meeting at The Appell Center's Capitol Theatre to meet manager Rick Forney. Parking in the Philadelphia Street garage is FREE on Saturdays!
– Cindy
---
November 11, 2022
Good morning and a very special THANK YOU to all the veterans who have served our country!
You're invited! Next Saturday, November 19 we're hosting a meet and greet with the Revs new manager Rick Forney. We'll be meeting at The Appell Center's Capitol Theatre located at 50 N George St, York PA – just a little over a block away from the ballpark. Doors will open at 11:00am with Rick speaking at 11:15am. After his introduction, we'll have a microphone available for anyone to ask questions. I hope it suits you to join us!
You're welcome to park at the ballpark and walk up to The Appell Center or park at the Philadelphia Street garage. 
No need to RSVP. There will be plenty of space for everyone.
– Cindy
---
October 24, 2022
Season Members,
It was announced earlier this morning that our new team manager will be Rick Forney who was formerly with the Winnipeg Goldeyes! Before we dive into the details, SAVE THIS DATE: Saturday, November 19, 2022 at 11am at The Appell Center for the Performing Arts. We will host a meet and greet with Rick Forney exclusively for season members to hear directly from Rick and have the opportunity to ask questions. I'll send out details closer to the date but mark your calendars now. 
Click here for the official press release.
– Cindy
---
Interested in becoming a member of the Revolution family?