Former Winnipeg Closer and Yankees Prospect Join 2023 Roster
(March 21, 2023, York, Pa.) — The York Revolution have signed left-handed reliever Tasker Strobel and right-hander Nelvin Correa to contracts for the 2023 season. The signings were announced by Revs manager Rick Forney live on Monday's episode of Revs Hot Stove Weekly presented by Shipley Energy on SportsRadio 98.9 FM & 1350 WOYK.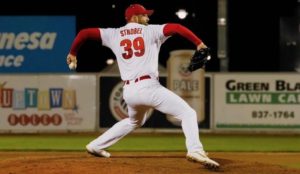 Strobel joins Forney in making the move from Winnipeg to York in 2023. The 6-foot-4 lefty served as the Goldeyes closer for most of last season, tallying 21 saves, just two off the American Association league lead. Strobel worked a 3.42 ERA in 53 outings and led the league in games finished with 46. The 28-year-old was an All-Star selection and saved five more games in the Mexican Winter League this off-season.
"He had an amazing season last year," commented Forney. "He wasn't my closer at the beginning, but he worked his way into that role with his consistency and durability. He throws strikes with four pitches, he's a really good team guy. He's been fantastic the last two years, and one of the reasons I acquired him last year was he pitched so well against my team the year before. I know he's excited about coming to York and being in the Atlantic League, and I'm looking forward to having him on the club."
Originally from Overland Park, KS, Strobel grew up in Indiana and graduated from Division II St. Joseph's (IN) College before making his professional debut in the Frontier League in 2017. After spending 2018 rehabbing from injury, he got back on the mound for a brief stint in the American Association with Gary in 2019. Strobel stayed sharp by appearing in 10 games in the United Shore League in 2020 and emerged as a go-to reliever with Gary in 2021, posting a 3.71 ERA in 32 outings while working as a closer for the first time, totaling eight saves. Forney acquired Strobel via trade prior to the 2022 season and now brings him to York, where he is set to make his Atlantic League debut. For his pro career, Strobel holds a 4.06 ERA in 104 outings (six starts) with 29 saves and 154 strikeouts to just 54 walks in 153.0 innings pitched.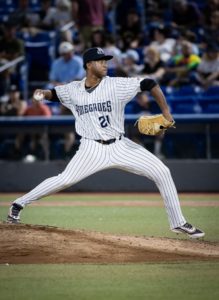 Correa enters his sixth pro season after five years in the New York Yankees organization. The 26-year-old is 23-10 with nine saves and a 2.61 ERA in 97 appearances (17 starts). In 261.2 innings, he has allowed just 230 hits and walked only 77 while striking out 240 batters. That calculates to just 2.6 walks per nine innings compared to 8.3 strikeouts with a 1.17 career WHIP.
Correa combined to go 2-2 with a 1.31 ERA in 33 outings last season, allowing just 32 hits in 48.0 innings and finishing the year with 5.2 innings of one-hit ball at Double-A Somerset. Each of his final 15 appearances were scoreless as Correa allowed just eight hits and no runs over 23.0 innings from July 9 through the end of the year. As a Yankees prospect, he was a teammate of right-hander Carlos Espinal, whose signing with the Revs was announced last week.
"He's a very efficient strike thrower," detailed Forney. "He throws a ton of strikes. He was fantastic in his audition with the Yankees for a few years. I'm not sure why he wasn't re-signed, but we're certainly glad he chose to come here to York. His good buddy Carlos Espinal probably had a lot to do with it, they're really good friends from their days in the Yankees organization and wanted to play together. I'm glad we were able to work it out to bring both of them on board."
The Revs now have 14 player signings announced for the 2023 season with Forney scheduled to announce more player signings on the next episode of Revs Hot Stove Weekly presented by Shipley Energy on Monday, March 27, at 6 p.m. live on SportsRadio 98.9 FM & 1350 WOYK, 989woyk.com, and The New WOYK app.